This post is being constantly updated
All times are in Libyan local time GMT +2
01:42 @Sal7a
has just forwarded an email received from a very trusted source in Misratah. We relay to you the email as it was relayed to us:
Dear All
I've just received a call from a friend confirming the following from Misurata.
Two civilian buses loaded with armed personnel dressed as civilians have entered Misurata (ca. 60 peple) accompanied by 11 tanks and are positioned at the main hospital in Misurata (close the Time Square). The hospital has been out of service for 4 years. The tanks are positioned at the front garden of the hospital.
Gaddafi today announced that he's going to arm the public to go out and clean the cities from the revolutionary. It seems that he wants to create a massacre in Misurata tomorrow, which he will go back and say it was the Libyan people who went to kill these rats (he refers to Libyans as Rats).
A massacre is about to happen in Misurata if the international coalition doesn't wipe them out today.
Remember over 80 people have been killed yesterday in Misurata by snipers
We need to get the news out to stop the massacre from happening!!!!!
01:17 The Guardian NATO's top decision-making body has approved plan to implement the UN arms embargo on Libya, but failed to agree on a plan for the alliance to enforce the no-fly zone, according to a report from the Associated Press news agency.
The AP reported:
Diplomats said Turkey's opposition to any NATO intervention in Libya stalled the approval of plans to launch aerial patrols over Libya to prevent the government air force from attacking civilian targets, which were drawn up by NATO's military staff.
Both actions will require a separate "execute directive" by the North Atlantic Council, which requires the consensus of all 28 alliance members. Diplomats said this could be issued on Tuesday at the earliest.
NATO members France, Britain and the United States have been carrying out strikes on Libyan targets since Saturday. But they have acted as individual nations rather than members of the alliance.
00: 51 BBC An administrative building inside Col Gaddafi's compound at Bab al-Aziziya in Tripoli has been "completely destroyed" by a missile, an AFP journalist reports.
00:08 Almanara Media Credible sources have just reported that Gaddafi thugs have just killed 1 and injured 2 brothers in a drive by shooting in Hay AsSalaam area in Benghazi
23:15 Reuters More than 8,000 Libyans aligned with the movement that rose up against Muammar Gaddafi have been killed in the revolt against his rule, a spokesman for the TNC told Al Jazeera on Sunday. He also criticised Arab League Secretary General Amr Moussa over comments that were critical of military action by the coalition forces. Read more here.
23:11 BREAKING We have just been on the phone with a contact in Tripoli where we were told that there is extremely heavy gunfire right now to the extent that the ground is shaking. We could hear the gunfire through the telephone as well.
22:55 Footage of an injured child in Benghazi yesterday. The injury was caused by a bullet as one of the doctors says
22:30 The Pentagon In a statement, a spokesman for the Pentagon has said that Saturday's strikes were "very effective". They have disabled a good portion of Libya's air defense systems. He said they did not go after mobile surface-to-air installations as there are so many of them it would be easier to avoid them rather than to go after each individual one.
The No-Fly zone is now in effect from Tripoli to Benghazi, the spokesman said. A good rule of thumb is that the top 3rd of the country is safe to fly. He did say that no NFZ is watertight, and that it is possible for helicopters or other small aircraft to get through. But if anything flies, he said, it will be engaged.
Right now France, the UK and the US are doing most of the enforcement, but more countries are joining every day.
He also said the US would probably not do the brunt of the fighter missions, but would rather bring it's own unique capabilities like tankers, electronic support, intel, reconnaissance, logistics, sensors and providing awacs and special electronics airplanes.
Asked if the coalition forces were "going after Gaddafi" specifically, the spokesman said no. He also said he "questioned" the latest ceasefire, saying that Col Gaddafi ordered a ceasefire only days ago and then immediately ordered his forces into Benghazi.
22:25 AFP reports that loud explosions in Tripoli. One near Gaddafi's residence
22:08 Almanara Media BREAKING: Three tanks have been destroyed in Misratah and one tank has been disabled by revolutionary youth. Currently there is one tank in the centre of the city which is moving between An Nasr Square and The Courthouse cluster. There are snipers positioned above buildings on the same street that the tank is in. There are many other tanks at the entrances of the city
21:57 @FMCNL USAF EC-130J STEEL 74 transmitting on 6877.0 kHz Libya 20 March 2011
20:45 Feb17voices A Live caller from Zintan describes the attacks on the city.

20:33 Almanara Media reports that heavy explosions have been heard from inside Gaddafi's battalion base in south Az-Zintan. The base was surrounded by revolutionary forces and the cause of the explosions is unconfirmed so far. The revolutionaries have withdrawn and the soldiers inside have fled north and south. No one is planning to go near the base for fear that it may be a target for air strikes.
20:27 Reuters Heavy anti-aircraft gunfire is currently being heard over central Tripoli.
20:23 Our contacts in Tripoli have confirmed to us that internet is available for only a few minutes a day at random intervals. This was noticed over the past few days after a 3 week long internet blackout on the capital.
20:11 Reuters At least 94 people were killed in an assault launched two days ago on Benghazi by forces loyal to Moamer Gaddafi, medics and AFP correspondents said on Sunday.
19:49 Almanara Media URGENT: The city of Zintan has been heavily bombarded by Gaddafi forces today using Grad missiles. Strikes were random and came from the east. Zintan has not had much coverage recently but the city has been under constant strikes for the past 3 days
19:30 Almanara Media reports that the youth of the 17th February in Benghazi are detaining the remaining members of Gaddafi's Revolutionary Committees in the city. This is due to the hostile activities that are being organised by Gaddafi's committee members in the city.
19:18 Al Jazeera As Gaddafi's tanks roll into the rebel-held city of Misurata, there are reports of many injuries amid fierce street fighting. Mohamed, a member of the city's civil community, speaks to Al Jazeera by phone, and describes what has happened in his city over the past day.
19:12 The Seattle Times Two journalists working for a French news agency and a photographer traveling with them have gone missing in Libya while reporting on the fighting between Moammar Gadhafi's forces and rebels, the agency said Sunday. Read more here.
19:02 Almanara Media Revolutionaries are on their way to Ajdabiya to liberate it from Gaddafi's clutches once more
17:55 Al Jazeera English Al Jazeera British special forces have been on the ground in Libya for weeks, preparing for possible operations, says German newsmagazine Focus.
Members of the Special Air Service and Special Boat Service have reportedly been noting the locations of potential targets, such as fighter jets and communications facilities.
17:40 Al Jazeera English report that summarizes what has happened over the past 24 hours
17:37 BBC The Arab League's secretary general, Amr Moussa, has announced an emergency meeting of the grouping, saying that the current situation isn't what Arabs had envisaged. "What is happening in Libya differs from the aim of imposing a no-fly zone, and what we want is the protection of civilians and not the bombardment of more civilians," he said.
17:34 Reuters Cyprus said on Sunday it opposed any use of British bases on the island to enforce a no-fly zone over Libya but conceded it had no power to stop their involvement.The British bases' headquarters said Akrotiri was not being used to launch offensive strikes on Libya, nor was it hosting air assets from any other nation for the operation. Read the article here
17:23 Nadia @LibyansUnite has sent us this beautiful video that summarizes what is happening in Libya and how it all began. We hope you will enjoy it as much as we did:
17:16 Al Jazeera English Last night's bombing in Libya has been condemned by the Afghan Taliban. We bring you a section, but please read the whole statement in Al Jazeera English's live blog:
The Islamic Emirate of Afghanistan strongly condemn this politically-motivated and uncalled-for intervention and adventure of the Western countries in the internal conflict of the people of Libya under the auspices of the United Nations. The consequences of such intervention certainly harm this Islamic country and the Islamic Ummah.
Al Jazeera English A group of eight Italian aircraft are today ready to join operations against Libya says defence minister Ignazio La Russa.
"We want to participate as equals in the operation."
He also said Italy was "ready to take action" over an Italian tugboat, whose 11 crewmembers have been detained in Libya.
17:03 Reuters Missile strikes launched by the United States and Britain as part of a bid to cripple Libyan leader Muammar Gaddafi's air defenses hit 20 of 22 targets, the U.S. military said on Sunday.
The missile strikes on Saturday caused 'various levels of damage' at 20 of 22 sites, centered around Libyan air defenses, said Lieutenant Commander James Stockman, a spokesman at U.S. Africa Command. Possible damage at two other sites was being assessed, he said.
16:34 The Guardian more photographs from The Guardian taken on the road between Benghazi and Ajdabiya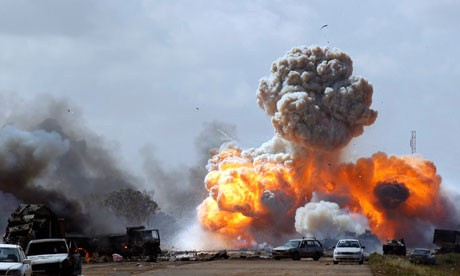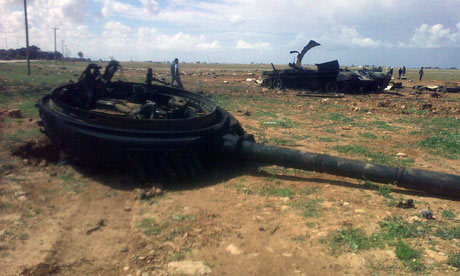 16:29 BBC Arab League Secretary General Amr Moussa, in comments on Egypt's official state news agency, wants an emergency meeting of the organisation. "What is happening in Libya differs from the aim of imposing a no-fly zone, and what we want is the protection of civilians and not the bombardment of more civilians," he said.
16:14 Reuters Admiral Mike Mullen, the top U.S. military commander, on Sunday said the end-game of military action in Libya was "very uncertain" and acknowledged it could end in a stalemate with Libyan leader Muammar Gaddafi.
16:10 The Guardian Photo of smouldering tank belonging to Gaddafi's forces in Benghazi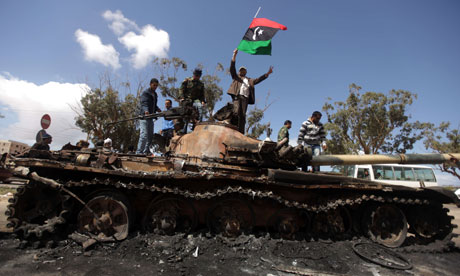 16:06 Reuters Muammar Gaddafi's wrecked tanks and other army vehicles smouldered on a strategic road in east Libya on Sunday after Western powers launched air strikes that galvanised embattled rebels. At least 14 tanks, 20 APCs and other vehicles have been destroyed near Benghazi
16:00 BBC Col Gaddafi's son, Saif al-Islam, said that the regime in Tripoli had been "surprised" by the air strikes. Speaking to Christiane Amanpour on ABC's This Weekhe said: "Believe me one day you will make up and you will find out that you were supporting the wrong people and you had made a big mistake in supporting those people. It's like the WMD in Iraq. It's another story."
Reuters 15:56 Forces loyal to Libyan leader Muammar Gaddafi have entered the centre of Misrata with tanks, and several people have been killed by gunfire, residents said on Sunday. "Two people were killed so far today by snipers. They (snipers) are still on the rooftops. They are backed with four tanks, which have been patrolling the town. It's getting very difficult for people to come out," one resident, called Sami, told Reuters by telephone.
"There are also boats encircling the port and preventing aid from reaching the town."
Abdelbasset, a spokesman for the rebels in Misrata, told Reuters: "There is fighting between the rebels and Gaddafi's forces. Their tanks are in the centre of Misrata … There are so many casualties we cannot count them."
14:12 The Guardian A no-fly zone is now officially in place over Libya. The US chair of the Joint chiefs of staff, Admiral Mike Mullen, told the NBC news station that Libyan government air defences had been "taken out" and there was no sign of Libyan aircraft.
13:58 Al Manara reports as well that military vehicles belonging to the revolutionaries are on their way to Ajdabiya. They add that the no-fly zone is now in effect.
13:40 The Guardian Human Rights Watch has shown support for UN-sanctioned intervention, citing the notorious Abu Saleem prison massacre during Gaddafi's decades-long rule in Libya.
HRW say that since February 17th, they have documented cases in which government forces opened fire on peaceful protesters and the arbitrary arrest and enforced disappearance of scores of people.
"The world should not ignore the serious abuses by Libyan security forces over the past month, as well as Gaddafi's demonstrated disregard for human rights over four decades," says Sarah Leah Whitson, HRW's Middle East and North Africa director. Read it here.
13:33 Libyan Youth Movement reports that the freedom fighters in the East are now heading west.
13:29 BBC Khaled in the UK tells the BBC "I just have been told by my sister who lives in Misrata that Gaddafi forces are shelling residences and homes with massive force. Everyone is hysterical and there is lots of screaming. I am very worried."
The same pharmacist who spoke earlier said the revolutionaries have destroyed two tanks.
13:07 BBC An eyewitness in Misrata has told a BBC that government tanks have rolled into the centre of the city. He described what he called a "massacre" with 40 civilians injured and at least 10 dead with civilian buildings coming under attack.
12:54 Libyan Youth Movement A member of Libya's Transitional National Council in Misrata says that the city is being razed to the ground. "He is going all out on Misrata now", he told the BBC.
12:36 CNN Nineteen U.S. warplanes, including stealth bombers and fighter jets, conducted strike operations in Libya on Sunday morning.
The warplanes included Marine Corps Harrier Jets, Air Force B-2 stealth bombers, and F-15 and F-16 fighter jets, according to Lt. Cmdr. James Stockman of U.S. Africa Command.
It is the next phase in the operation that started Saturday with the launch of more than 110 Tomahawk Cruise missiles from U.S. and British warships and subs.
12:31 AFP The latest death-toll from Benghazi, which came under heavy bombardment by Gaddafi forces for two days before the UN operation began. AFP quotes medics in the city, they said at least 94 people were killed in the assault.
12:29 BBC Prayers are to take place in Misrata and Tobruk in memory of Mohammed Nabbous, a well-known activist who was killed in Benghazi on Saturday as he filmed the pro-Gaddafi attacks on the city. Mr Nabbous was the founder of Libya Free TV and was due to become a father.
11:00 Sky News reports that Gaddafi's forces are still active in Misrata, troops have been encircling the city and snipers are on the rooftops despite the overnight attacks of the UN operation.
A pharmacist in Misrata writes to the BBC: "We can hear shelling now, heavy shelling. Gaddafi militiamen are entering from the west and they are positioned on the main street which leads to the town centre. There are tanks and snipers on top of buildings. There was a big explosion just now. I am currently staying in the main hospital, this is what we hear is happening. In the last three days, there have been Gaddafi ships in the port. We have been unable to collect containers with medicine from the port because of that – they would shoot.

10:40 BBC This just in: Armed men have detained the crew of an Italian ship in the Libyan capital's port, Italy's Ansa news agency reports. It says the ocean-going tug comprise eight Italians, two Indians and one Ukrainian
05:33 Reuters China wants stability restored to Libya as soon as possible, the foreign ministry said on Sunday, after Western forces started using strikes from air and sea against Muammar Gaddafi's troops. Expressing regret about the military attacks in Libya, the ministry said it hoped the conflict would not escalate and lead to greater loss of civilian life.
05:29 BBC Abdel, a doctor in the town of Misrata, Libya, about 200km east of Tripoli, tells BBC World television that Gaddafi loyalists have been moving the bodies of people killed in clashes between rebels and government forces to sites that have been bombed by the coalition to make it appear they have died in the strikes.
04:51 Footage of interview with captured Brigadier in Benghazi
Captive: My rank is brigadier, my name mohammed alaa addeen Ali salem Hnesh. I was captured today in Gar Younes, a number of civilians captured me.
Guys off camera: Revolutionaries!
Captive: Revolutionaries yes. What else did you ask me?
Interviewer: How did you enter?
Captive: My specialty is land mine clearance and I am part of the national program for mine clearance and land development
Interviewer: Which battalion do you belong to?
Captive: I am not part of a battalion, I am with the "People's rotation" as a basis, but I am assigned to that prgram as well (mine clearance & land development)
Interviewer: Which battalion? You guys came with a battalion today..
Captive: No no..
Man off shot: Which battalion did you come with?
Captive: No no, I came on my own, I didn't come with any battalion. This was the instruction I received…
04:32 Footage from Benghazi 19th March 2011. A translation is below the video:
Translation:
Guy off shot: video, video eh?
Cameraman: Video yeah
Guy off shot: record the tank that the youth captured over there
Cameraman: Recording the tank they captured, this is the tank they captured,
Guy off shot: The other one's over there
Cameraman: Show the independence flag, raise the independence flag
Cameraman: Show them the ammunition, the ammunition they seized from them today…

04:20 BBC Abdul Karim, a doctor in Libya's third city of Misrata, tells the BBC: "There has been strong firing from Gaddafi's tanks from the western side of Misrata, in an area called Guseir. The firing started five hours ago. I can still hear the sounds of explosions. I was heading home when I heard the explosions, so now I have gone to a safer place."
03:54 Mohammed, I can't even begin to put to words how much you grew in my heart in such a short space of time. You are in a better place my brother. May God give your wife and family patience and steadfastness during this devastating time.
03:38 BBC The RAF's Storm Shadow missile is a long-range air-launched cruise missile – and one of the most sophisticated air-launch weapons in the world.
Storm Shadow is a "fire and forget" weapon. Its strength is in that it can be launched by a bomber from any location up to up to 155 miles (250km) from the actual target. Read the article here
03:22 BBC A spokesman for the UK's Chief of Defence Staff says the Royal Air Force has "participated in a co-ordinated strike against Libyan Air Defence systems". "In addition to the Tomahawk Land Attack Missiles (TLAM) launched from a Trafalgar Class submarine, I can now confirm that the RAF has also launched Stormshadow missiles from a number of Tornado GR4 fast jets, which flew direct from RAF Marham as part of a coordinated coalition plan to enforce the resolution," a statement adds.
The British fast jets flew 4,828km (3,000 miles) from RAF Marham and back – the longest range bombing mission conducted by the RAF since the Falklands conflict, according to the Ministry of Defence. The operation was supported by VC10 and Tristar air-to-air refuelling aircraft as well as E3D Sentry and Sentinel surveillance aircraft.
UK Defence Secretary Liam Fox says: "We made clear that if Gaddafi did not comply with the UN Security Council resolution 1973, it would be enforced through military action. Our armed forces have therefore participated in a co-ordinated international coalition strike against key military installations… This action has provided a strong signal – the international community will not stand by while the Libyan people suffer under the Gaddafi regime."
03:16 The Guardian Qatar's prime minister has told local new channel al-Jazeera that Qatar will definitively participate in the military action in Libya
"Qatar will participate in military action because we believe there must be Arab states undertaking this action, because the situation there is intolerable…. it has become an open war involving mercenaries. I think that this is an issue that must stop very quickly," Prime Minister Sheikh Hamad bin Jassim al-Thani said, adding:
We do not accept any harm coming to the Libyan people. We are not targeting the Libyan people, or targeting even the colonel [Gaddafi] or his sons, quite the opposite. How can we stop the bloodshed, this is our intention.
03:13 Libyan State TV Reporting that 48 people have been killed and another 150 wounded by the air and missile strikes, according to the Reuters news agency.
03:07 Louis Abelman
has compiled touching article about the martyr Mohammed Nabbous. We bring you the first couple of paragraphs and encourage you to
read the rest of it here
Today we received the news that Mohammed Nabbous, a citizen media activist and one of the great figures of the February 17th youth revolutionary movement, was killed by a Qadaffi sniper while covering the first hours of fighting in Benghazi. His death represents a terrible loss for the movement and for the future of Libya.
We met Nabbous briefly, soon after arriving in Benghazi. As a leader and a member of the Transitional National Council, he gathered a progressive group of activists around him and organized the institution known as the February 17th Revolution Youth Media Center. In that grimy warren of hallways and former interrogation cells, reclaimed from the regime and plastered floor to ceiling with graffiti slogans and cartoons, his name was intoned gravely, even reverently.
00:58 Al Jazeera English Forces loyal to Muammar Gaddafi had bombarded areas of Benghazi. Gaddafi's forces fired from tanks and used rockets to strike the city. Some residents have sought refuge in mosques for safety
02:42 AFP African Union is calling for an immediate stop to military action in Libya
02:40 Al Jazeera English Pro-Gaddafi supporters are coming out to the streets of Tripoli, shouting and chanting at 02:40 local time
02:35 Al Jazeera English Gunfire and anti-aircraft rounds heard being fired over Tripoli
02:29 Almanara Media reports that anti-aircraft missile batteries have been bombarded in the following locations: An-Naasiriyah, Al Ma'moorah, Al Garaboolee and Tajoura
02:28 BBC Reports from Benghazi say revolutionaries have regained control of the city after driving out forces loyal to Col Gaddafi. The rebels say roads to the east are clogged with car loads of people fleeing.